EM-M10001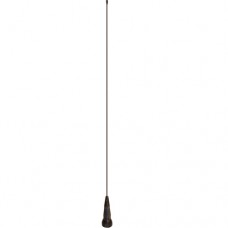 ผู้ผลิต:
E/M Wave
รหัสสินค้า:
EM-M10001
คะแนนสะสม:
0
สถานะสินค้า:
มีสินค้า
ราคา: 0.00 ฿

EMF-M10001
EM-M10001 - VHF-UHF Broad Band Quarter-Wave Antenna
Overview:
Our EM-M10001 is optimally designed to operate from 108-520 MHz and is field tunable according to your specific needs. The whip and spring sections of this antenna are constructed of 17-7 SS material and durable, fully activated black chrome plating for superior resistance to heat and corrosion. Forward power handling is rated at 100 watts. This antenna offers first in class communications reliability in the VHF and UHF radio frequency spectrums.
Applications:
Automotive
Public Safety
Land Mobile Radio (LMR) Systems including but not limited to Amateur Radio (2 m, 1.25 m, 70 cm), Industrial/Business Mobile Radio, Two-Way Radio Base and Mobile, Aviation Radio (108-406 MHz) and more.
Features:
NMO Mount Type
Black Chrome Finish
Field Tunable
O-ring seals for waterproof construction
Durable Xenoy™ base with TPV over mold dust seal and grip ring
2 year Limited Warranty
ELECTRICAL SPECIFICATIONS

Feature
Specification
Frequency
108-520 MHz (Tunable Range)
VSWR (15 MHz Bandwidth @150 MHz)

<2.0:1

VSWR (50 MHz Bandwidth @450 MHz)
<1.5:1
VSWR (100 MHz @450 MHz)
<2.0:1
Impedance
50 Ω
Gain
2.0 dBi
Power Rating
100 W
Polarization
Linear, Vertical
E-Plane
50 Degrees Nominal
H-Plane
Omnidirectional
MECHANICAL SPECIFICATIONS

Feature
Specification
Overall Length

@108 MHz)

29 in. (737mm)

Overall Length

(@150 MHz)

19.75 in. (502mm)

Overall Length

(@450 MHz)

7.75 in. (197mm)

Whip Material, Finish
17-7 SS, Black Chrome
Spring Material
17-7 SS, Black Chrome
Base Material
Xenoy™ w/TPV over mold grip ring
Mounting Application
¾ inch Thru-Hole NMO Mount
NMO Mounting and Connector
Sold Separately
Operating Temperature
-40° to 85° C
Humidity
95%
Mounting Options: *Sold Separately*
EM-M11001-058 NMO Mount

EM-M11001-195 NMO Mount

EM-M11006-SP Combination Mount NMO/GPS Antenna
Connector Options: *Sold Separately*
EMMP-058 Mini-UHF Plug (Male Connector) Nickel plated
EMTP-058 TNC Plug (Male Connector) Nickel plated
EMPL259-CRIMP Connector (Solder center pin, crimp sleeve)
EMBP-058 BNC Plug (Male Connector) Nickel plated
Download Options: